Sorry, no photos of my latest projects. I made a plum colored brocade shrug for my mum (sleeves need to be shortened) and an Amy Butler flannel tunic (believe it or not, it works) for my sister. Both gift recipients are happy with their gifts.
After they so graciously accepted these gifts, I dragged the two of them out to watch me try on dresses. I turns out that there is no escaping piles of lace, sequins, beads, or at the very least a pile of crinoline or a train. Even the shortest train seems to envelop me. I don't want lots of glitter, and I don't want lots of seams.
Dress #1
There is one dress that I tried on that is a possibility, but I don't want the little blingy thing on the waist, the buttons down the back, and wish that the top were a little more draped. I learned, though, in trying on this dress that even a simple looking dress like this has a substantial structure inside. It's like a strapless dress within a dress, and I am keeping that in mind because I think it makes a big difference in the way the dress looks. More on that later.
Behold, Casablanca Bridal 2128 from the Fall 2013 collection.
Front of dress.
I think that this is possible to piece together. This is a bias cut skirt with a halter top similar to Cynthia Rowley's Simplicity 2281, minus the flutter sleeves.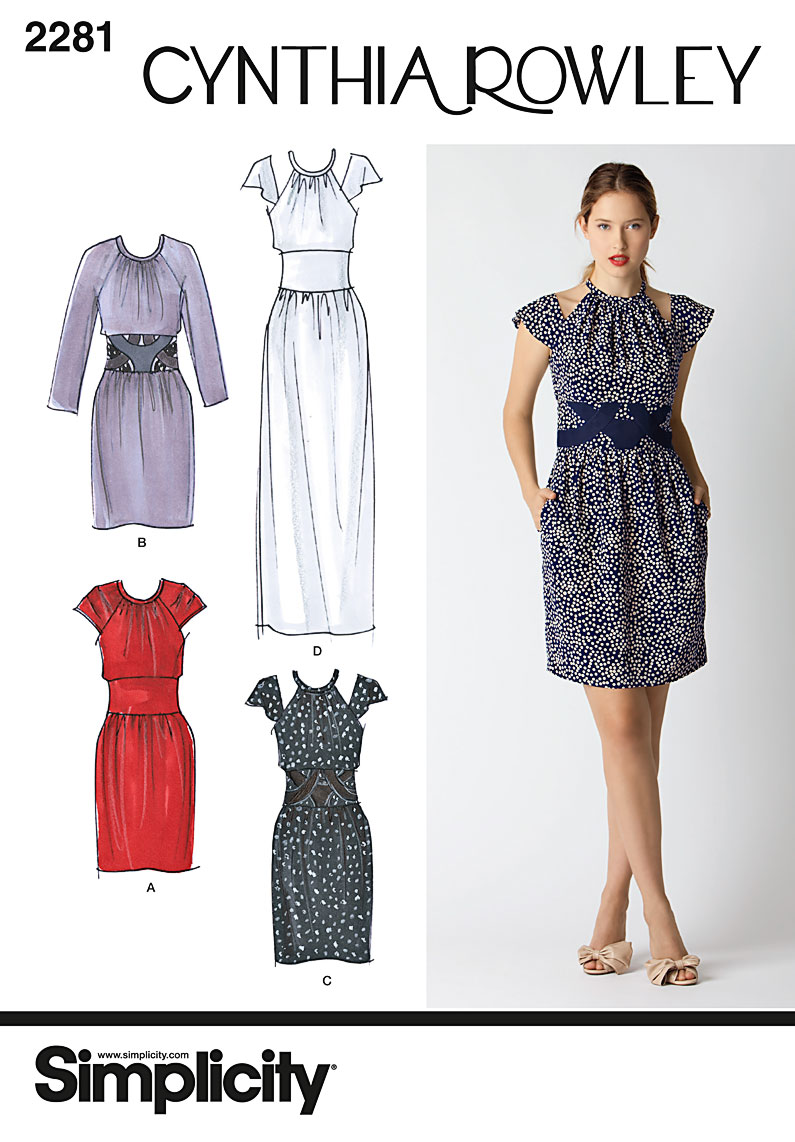 Halter top, with keyhole back, spot on.
The tricky thing was to find the right kind of bias skirt draft. I won't go into details, but if the bias skirt wasn't a circle skirt, it has an elastic waistband. While there's nothing wrong with elastic waistbands, I want to be sure that the skirt waist matches my own waist. I spent a few hours yesterday scouring Etsy for a narrow bias skirt with fitted waistband. I came up with McCall 4258. I have several bias cut dress patterns with trains so figure I can combine patterns to make a small train - I wanted to be sure, though that the waist would fit.
McCall 4258. Bias cut skirts with fitted waistband and narrow fullness options. Harder to find than I'd have thought.
Dress #2
I found this dress during an internet search trying to figure out whether I wanted crepe back satin, 4-ply satin, or charmeuse. It's made by a now defunct company called Alix and Kelly. If they were still in business, I'd very likely buy this dress On The Spot. Because that is not an option, I will probably try my hand at a draft of this with a few tweaks.
Kate by Alix and Kelly. I love the drape and look of this dress. I would make it with a shorter hem to avoid dress puddle, though.
This skirt is seamed at the waist to the bodice. Through my internet stalking, I saw that there is a seam at the waist. The bias skirt is split at the back to add a godet (I'm not sold on that, though.) The killer part of this dress to me is the draped, double cowl bodice. Is there or isn't there a zipper? I can't make this dress as a pullover style because I value structure too much and don't want to run the risk of (a) showing everyone that I'm naked under my dress by leaning over too far (b) have the top slide around because it's not anchored to anything, (c) not that this is ever happened, but I don't want to run the chance of being cock-eyed or
pancaked
.
Not to worry though, because through my research, I've discovered that it's possible to have a blousy top
WITH A ZIPPER
. Win for everyone!
There is a zipper there! And it's blousy!
Finding this photo opened my eyes to several possibilities. I could have a side zip and maintain the blousiness but create the fitted inside structure that I need.
Resources
I will need to figure out how to create an interior structure to these drapy dresses... a quick Google search told me the right reference would be Susan Khalje's Bridal Couture. Talk about precious. It's out of print and nobody's willing to sell their copy for less than $75. I realize that's cheaper than any one of my engineering textbooks from my college days, but I've decided to check it out from the library before taking the plunge and buying my own copy.