I've made out pretty well with this dress pattern. This is the second time I've made a dress from this pattern.
Previously I made view B in orange jersey. If you squint out (squint!) the different dress drawings on the left side of the pattern photo, view B is the red checked short dress with dolman sleeves. What I learned was that this pattern has excessive ease and that jersey stretches if you hang it on the hanger. The orange dress was my go-to dress all last summer and then this year as I was packing to move I found that it was stretched out of shape from hanging in my closet all winter.
So this time around, I made the dress a size smaller than my measurements indicated (I'm at 10 by the package measurements, but I cut an 8.) I wanted a maxi dress but without a halter neckline or exposing my horrible runner's tan (sport bra line on my back, HOT!) and view E of this pattern fit the bill. This dress is the dress that I'm going to wear to 3 outdoor weddings -- one next weekend, on Labor day weekend, and one in mid September -- I wanted something packable that didn't need to be steam cleaned. So a jersey dress would be perfect!
The fabric is a jersey from Gorgeous Fabrics that's been sitting in my stash for over a year, and the lining is some mystery blue polyester knit (it's amazing what you find when you dig deep enough). The fashion fabric has a beautiful border print that's about 1' deep. You can see it in full from my mid calf down. I used on portion of it for the bodice, and the bottom most portion (with the brown trim) for the neckline to repeat the print. I like the result!
The thing that I hate about Simplicity patterns is that they're sized for Amazons. I took 3" off the skirt portion of the pattern, and the dress is still too long. I was really disappointed and didn't want to cut the border print off the dress. Because I am so short, I was able to squeeze this dress out of 2 yards of fabric, when the pattern calls for 2 3/4 yards.
If I had left the dress as designed by the pattern, it would have looked like a total sack. The waist line of the design was well below my natural waistline. So I took the midriff lining out, and sewed the skirt seam to the bodice seam. With this adjustment, the dress fits better on my body but it's still really long. I have to wear it with heels, and because I cut it so that the stretch runs lengthwise (to use that border print at my feet!) I'm afraid it's going to get longer if the fabric stretches as I wear it.
Here are some details. Apologies for the fuzzy pictures. I just can't win without someone to take pictures for me. They're either too dark because I take them indoors or they come out crazy bright outdoors.

Look ma! No runner's tan!



This is the doubled over midriff piece on the outside.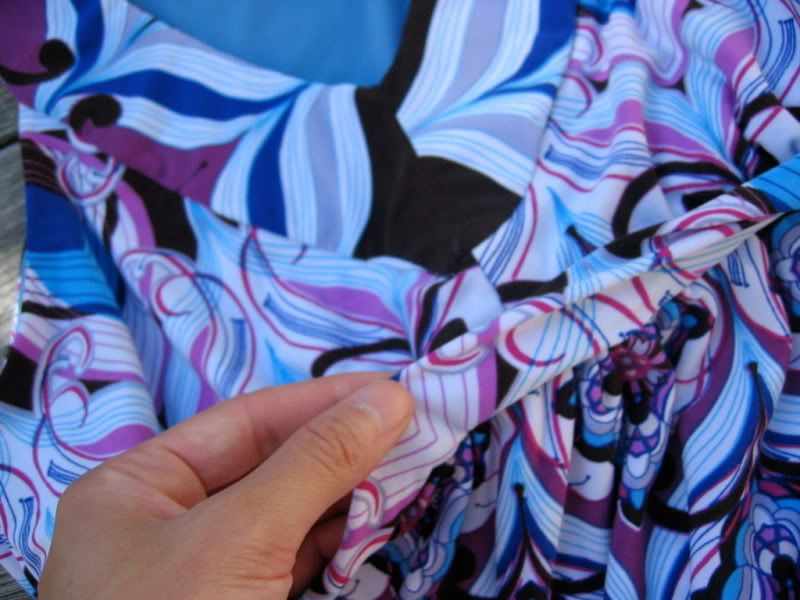 Not so pretty on the inside, but it works!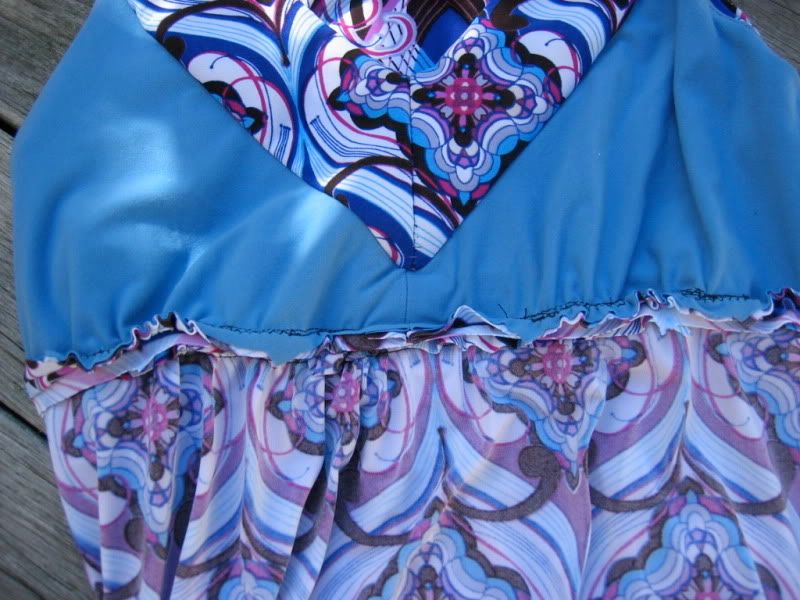 The neckline is hand stitched. I hate handsewing, but I'm happy with the result -- no visible stitches.